Hi everyone! I hope you had a great weekend! I have been out of town and am just now having a chance to update here.
We just got home from Dallas. Here is where I would insert the music from the TV show if I knew how to do that type of thing! Mental note-buy
Blogging for Dummies
so I can figure out how to add cute music. Anyway, back to the weekend talk.
We stayed at the Hyatt Regency in downtown. It was in a great centralized location. Yeah for Hyatt points as well which helped me to get one of the nights free. With the economy the way it is a freebie is always a good thing!
Friday we walked around downtown. I have been to Dallas several times, but have not spent as much time there as I have in most of the other larger Texas cities, like Austin and San Antonio. While being in a place you don't know quite as well leads to seeing new things, it also drives me crazy to not know directions. Thank God for Tom Tom!
We visited the site where JFK was shot outside of the Texas School Book Depository. Walking into the depository was very surreal knowing that the Lee Harvey Oswald once walked in that very building with a mission to complete. Such a sad history in that small block!
Later that night we met up with our friends Pam and Bill and had a chance to meet their beautiful children. I don't know why I didn't get some pictures for my blog while out that night, but we went to a cool place close by our hotel. Great friends, great food and a funny piano guy=a great Friday night!
Saturday we went to Cruefest 2. While I really enjoyed the lineup much more last year for the first Cruefest, I still had a great time. We were fortunate enough to have front row in the pit. I always laugh at the girls who come in at the last minute and think that they are going to bully their way into the very front. I had to prove to one girl that while I may have been a third of her size I am very determined! After trying to squeeze me out of my spot for about twenty minutes she finally gave up! Good riddance!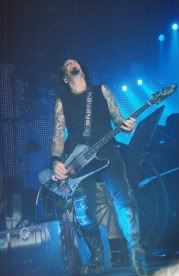 Sunday was not very eventful. We just drove back home trying to stay awake from the night before. Are we getting too old for seven hour concerts? Hmm.. I most certainly hope not! ;)